Quintel designs, develops and delivers advanced high-efficiency, high-performance antenna solutions that help mobile operators to increase efficiency, enhance quality-of-service, slash costs and accelerate ROI. Quintel is radically transforming wireless infrastructure with feature-rich antenna technologies that make networks more efficient and more profitable. An innovator in low-impact and high-output solutions, Quintel simplifies rollout complexity with practical antenna solutions that quickly boost capacity and coverage within diverse heterogeneous networks.

ALT's Mission: To supply every customer with quality products at competitive pricing, while maintaining exceptional customer support. Serving the construction industry since 1987, ALT is a leader in manufacturing & distributing, specializing in wireless site accessories, grounding components, and lightning protection materials. ALT also offers electrical components, hardware, tools, safety equipment, & contractor supplies. Count on ALT as your one-stop mAteriaL soluTions superstore!.

Ubiqam focuses on innovation in smart antenna and interference cancellation technologies enabling wireless service providers to extract the most out-of their spectrum and upgrade their mobile broadband network to unprecedented capacity and spectral efficiency. Ubiqam's UBiFiX™ products enable cellular base-stations to maintain their high quality operation and capacity in the presence of strong foreign interference generated by narrow and wide-band signals while performing acquisition and tracking automatically. The company's solution has been successfully deployed by leading global cellular operators, protecting 3G and 4G/LTE sites from a broad range of interference scenarios.
Solar Communications International, Inc. is a leading supplier and developer of RFTransparent™ products designed to integrate wireless infrastructure into the look and character of the end user's community. Delivering exceptional service and state-of-the-art RFTransparent™ products requires a significant investment in equipment and manpower. We bring together individuals with diverse backgrounds in the wireless communications and business industries, guaranteeing that SCI can execute any phase of site deployment, from zoning to site design and installation. Our team understands the value of proper planning and coordination with each of the many parties responsible for moving a site smoothly to its on-air date. We've taken the necessary steps to guarantee that our personnel and information systems are adaptable to different reporting needs and ways-of doing, insuring that SCI can provide any client from contractor to carrier real time responsiveness.

dbSpectra provides design and manufacturing of RF conditioning and wireless equipment for Cellular, Land Mobile Radio (LMR), and Public Safety applications. Based in Lewisville, Texas, dbSpectra was founded in 2001, and entered the LMR market with the design of the Control Station Combiner. In 2005, dbSpectra began manufacturing legacy Decibel Products LMR site management and RF conditioning equipment, and to this day has strong engineering and management ties to the originator of these products. The LMR and public safety portfolio has grown to include Transmitter Combiners, Receiver Multicouplers, Duplexers, Antennas, Filters and Tower Top Amplifiers. dbSpectra entered the Cellular market in 2010, using its RF design and manufacturing capability to develop custom solutions for carriers and their partners. These applications include antenna designs for defined coverage areas, packaging solutions for zoning compliance, mounting solutions for installation streamlining, and many others. dbSpectra is an ISO9001:2008 certified company. All products are proudly manufactured in the USA.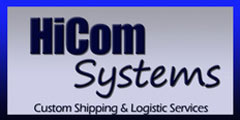 HiCom Systems is a contract logistics center for the telecommunications industry. HiCom systems maintains a following with both carriers and manufactures due to its unprecedented performance including time to market, logistic efficiency and customer specified packaging. Hicom Systems can provide the following services: Coax Spooling, Site Kitting, Logistic Coordination, Inventory Management, 24 hour delivery, Long Term Material Storage, and can accommodate any additional custom need not listed above.